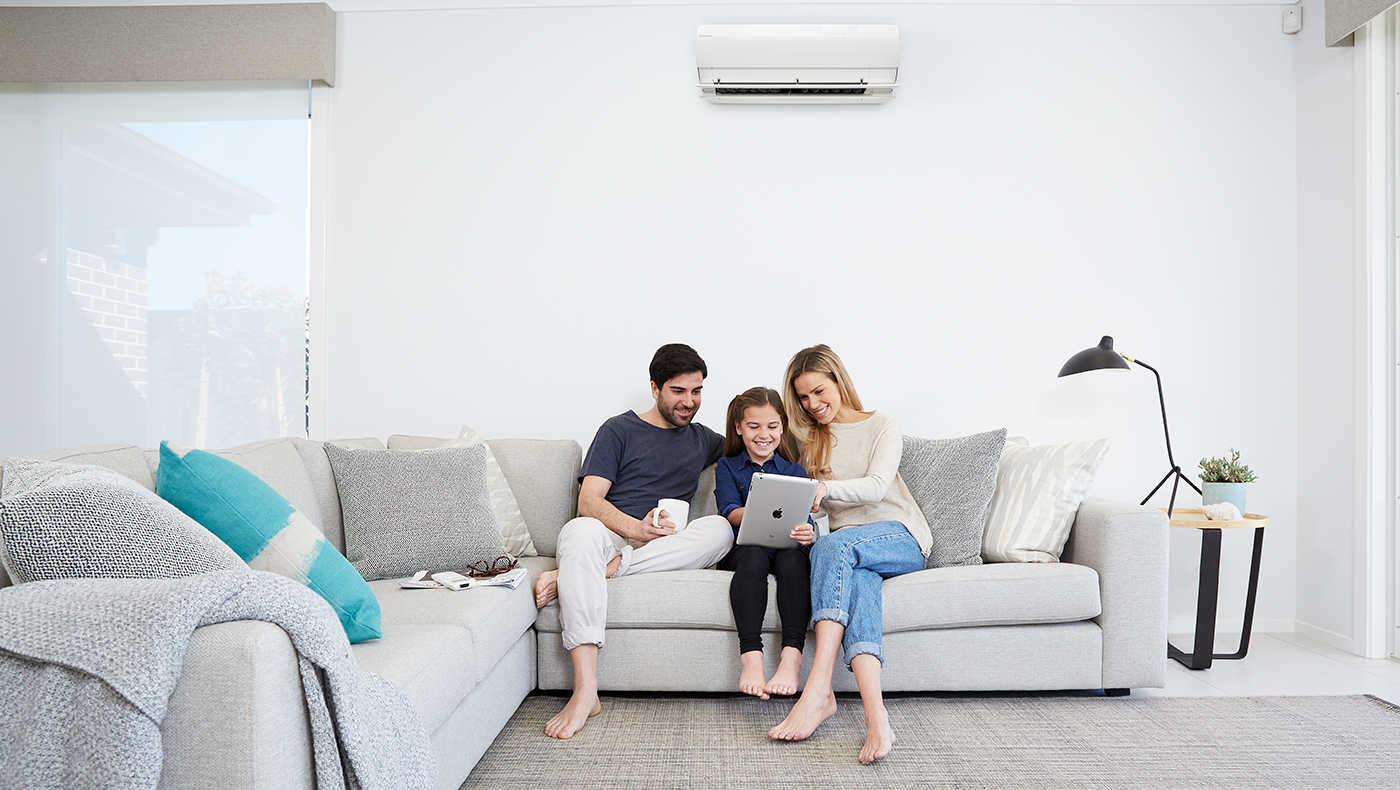 Trying to decide on an air conditioning unit in your home is not always easy, there are countless units on the market here in Brisbane.
That is why here at iinergy our staff are all trained in helping you decide on the most suited unit for your home meeting all your requirements. Also, as a customer you do not need to pay for a technician to come out to your home to provide you with some advice and a quotation. This can be done online with just a few simple questions.
Size of Room
Whether a small bedroom or a large open plan living area, choosing the right size system is very important, not just in heating and cooling effectively but also your unit's energy efficiency. By choosing and installing a unit that is too small the system tries to work that bit harder to cool the room therefore using more power. We have a standard guide on what size air conditioner suits the room areas below:
A 2.5kw Wall Split Unit will heat and cool up to 20m2- suitable for a standard bedroom.

A 3.5kw Wall Split Unit will heat and cool up to 25m2- Suitable for large bedroom or office.

A 5kw Wall Split Unit will heat and cool up to 40m2- Suitable for a small lounge or rumpus room.

A 7kw Wall Split Unit will heat and cool up to 60m2- Suitable for a large lounge or open plan living.
*Please note these room sizes are a guide and the area the unit can heat and cool can depend on the brand. Our iinergy air conditioning team can guide you with picking the right size unit.
Types of Air Conditioners
If you're looking to install a new air conditioner in your home or upgrade your old one, there are several types of air conditioning systems available.
Whichever you choose, you'll need to ensure it's the right size for the room and your household.
SPLIT SYSTEM AIR CONDITIONERS
All split system units have the compressor unit/s located separately from the air outlets and come in a variety of configurations, including standard single head units, multi-head units, ducted units or portable units.
With the compressor unit located separately, they are comparatively quieter than box air conditioners. However, the performance, energy efficiency, noise levels and temperature control capabilities of units in this category can vary significantly between brands and models.
Some models feature reverse-cycle functionality, which means the condenser component that expels hot air is located inside the header unit, rather than outside with the compressor.
Single head systems have one header unit to supply cooled air indoors, with a single compressor unit located outdoors. Models are available to mount on the floor, wall or within the ceiling.
Multi head units have more than one header unit connected to the same outdoor compressor unit.
Inverter systems can run at different capacities in response to the current ambient temperature of the space and can require less energy to maintain room temperature once it has been cooled. However, this also means they typically require more energy in the initial cooling phase.
Portable units are available; however these can be much less effective and comparatively very inefficient.
Ducted systems supply cooled air from an outdoor compressor unit to multiple rooms in the house through an integrated system of insulated ducts running through the roof space or under the floor. These units have the ability to cool the whole house with one system, but can be comparatively more expensive to install than multiple split systems and require more energy to run. Ducted systems are more easily and economically installed when building a new home or doing a major renovation.
WINDOW BOX AIR CONDITIONERS
This style of air conditioner has all of its components in one unit, which can be mounted on a window frame, or for a more permanent installation, into an external wall.
They are generally cheaper to purchase than split systems. Their output capacity is lower than a comparatively sized split system, so they are best suited to cooling single rooms or other small areas. Having the condenser located with the unit means they can also be quite noisy.
Air Conditioner Prices

The cost of the air conditioning unit and the charge to have that system installed plays a big part in deciding on a system for your home. That's why at iinergy conditioning we only sell the best quality systems at an affordable price. We offer a competitive guarantee on our prices and if a competitor is found to be cheaper than let us know, and we guarantee to beat it. We also have a 24-minute supply only sale on our website and those prices will not be beaten.
Air Conditioning Brands

It is difficult to choose a brand especially when there is so many to choose from on the Brisbane market currently. When choosing brands we recommend doing research into
Warranties

Specifications

Certain Models

Features.

Our iinergy team is trained to help you compare air conditioning units to best fit your needs. Choosing a reputable company to supply and install your new unit makes the process completely hassle free. Make sure they have reviews from other happy customers. We never suggest installing a unit yourself unless you are trained.